Email Marketing – Aweber or Mail Chimp or Constant Contact?
There are many choices of Newsletter and Autoresponder services, with many features and benefits. It can be overwhelming choosing your Email Marketing tool.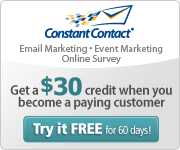 Four I recommend include:
2.  1Shopping Cart Email Marketing
3.  Constant Contact Email Marketing
There are Pros and Cons for each service.  An Advantage of Constant Contact is that you have a 60 day trial period and the price is very reasonable. As long as you have a customer or person who has indicated they want to be on your mailing list, you can manually add them. Some systems do not allow you to do that, which can be a disadvantage. Have a Free Trial here: —-> Constant Contact
I use both Constant Contact and 1ShoppingCart (reseller) – Diana Walker's Email and Newsletter Marketing Choice – this is the one I have used since 2005 and have thousands of opted-in Subscribers.  I have various  autoresponder series set up – like classes – once a week for 2 years which means I have 100 Autoresponders in one series!  so 7 autoresponders would not suit my needs.  (you could not do that with Constant Contact).   You could do that with Aweber.  Constant Contact is a good option for off-line businesses – and they have wonderful templates to use and it is very easy for the average, non-techy person to use.
If you are an online Marketer, you should know that Mail Chimp's Terms of Use state that the following – that you cannot be an Affiliate Marketer and use their service!  Affiliate Marketers, Network Marketers, and even those promoting Nutrition Supplements are not welcomed!  This is good to know before making your choice:.
This is a quote from Mail Chimp's Terms of Use
Also, there are some industries that send certain types of content
that result in higher than normal bounce rates and abuse complaints,
which in turn jeopardize the deliverability of our entire system.
No offense intended, but because we must ensure the highest delivery rates
possible for all our customers, we do not allow businesses that offer
these types of services, products, or content:

Illegal goods or services
Escort and dating services
Pharmaceutical products
Work from home, Internet Lead-gen, Make money on online opportunities, etc.
Online trading, day trading tips, or stock market related content
Gambling services, products or gambling education
Multi-level marketing
Affiliate marketers
Credit repair, get-out-of-debt content
Mortgages and/or Loans
Nutritional Supplements, Herbal Supplements or Vitamin Supplements
Pornography or nudity in content
Adult novelty items or references in content
List brokers or List rental services
Marketing or sending commercial email without proper permission
What Is Double Opt-In and Why Is It So Important?
Double opt-in is the current evolution of the business email.
Business emails include newsletters and autoresponder series.
In the earliest days of Internet marketing, it was not uncommon for unsolicited emails to be sent out to random email addresses, a fact that made free email sites like HotMail less than popular. However, legislation and a general rebellion by consumers tired of spam made this marketing technique obsolete except for a few non-US spammers.
A better way to send people email, marketers found, was to have them ask for it to begin with. Customers and interested people were asked to submit email addresses online or through other means (signup sheets at trade shows for instance), and they were added to mass email lists.
However, with the Can-Spam laws passed, this too became problematic. A consumer signed up by someone else, or who had forgotten they'd signed up for a mailing, could sue the marketer under this law, and the marketer could find themselves liable for enormous fines as well as legal fees and a bad reputation.
Do you love AWeber, too?
To solve this problem, marketers turned to double opt-in emails.  In the internet marketing world, the most popular, easy-to-use, Email Newsletter and Autoresponder is Aweber.
Constant Contact, Mail Chimp, Aweber all provide double opt-in options.  Mail Chimp can be a good service to use for Non-Profits (because of the rules above) – and it is free up to a certain point.  It can be a little too techy for some people – and then I would recommend Constant Contact.
Double Opt-In
Double opt-in is also referred to as Confirmed Opt-in or Closed-Loop Opt-in
Single Opt-In
Single opt-in is often called Unconfirmed Opt-in.
With this system, consumers sign up to be on a mailing list. Before anything is actually sent to them from the mailing list, a test email goes to the consumer asking them to respond to that test to verify that they had indeed asked to sign up. This verification takes the form of an email being returned to the marketer or, more common today, of the consumer visiting a verification website with a long-tail code embedded in the link they use that verifies that person's identification.
There are several advantages to Double Opt-in emails:
1. The consumer is assured of getting only emails he or she has specifically requested, building trust for the vendor.
2. The vendor has verified accurate email addresses from people who have requested to be added.

3. More importantly, the vendor has a paper trail proving that he or she added a consumer at his or her specific request.
4. Protection for the vendor because of the proof, it not only proves to the subscriber but the vendor can be at ease.
5. Because of the expectation of getting an email from the vendor right away, the consumer is assured he or she added their correct email address without typos – and they can change their minds if necessary.
While it is not legally required for emails to be Double Opt-in, it's legally smart to use this method for any kind of ongoing email subscription. It's also good business practice for every online marketer.
It makes things go a bit slower when building your subscriber base, but it makes things more solid and accurate. The best thing you can do with double opt-in is to make sure you have clear instructions for your subscribers to follow.
An excellent system for building your subscriber and customer base with Double Opt-in is Aweber
Do you love AWeber, too?
Wishing you Success and Abundance in Life and Business!
Diana
Diana Walker, Internet Educator